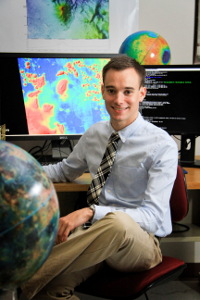 Bio
I am a volcanologist who researches how volcanic terrains and magmatic processes evolve over geologic time. My study areas include volcanic regions on Earth and its neighboring bodies, Mars, Venus, and the Moon. Much of my research involves mapping, numerical modeling of lava flows, and statistical modeling.
Education
Ph.D., 2016, School of Geosciences, University of South Florida
B.Sc., 2010, Department of Geography and Geology, Eastern Michigan University
Professional Appointments
2018-present, Postdoctoral Researcher, NASA Goddard Space Flight Center/University of Maryland
2016-2018, NASA Postdoctoral Fellow, NASA Goddard Space Flight Center/Universities Space Research Association
2013-6, Research Assistant, University of South Florida
Curriculum Vitae
Curriculum Vitae (pdf)
Peer-reviewed Publications
Data Maps & Links
Earth
Mars
Aerial LiDAR Survey of the San Rafael, UT Exposed Subsurface Volcanic Features
National Center for Airborne Laser Mapping
2013
doi:10.5069/G908638S
Catalog of small volcanic vents in the Tharsis province
Planetary Data System IMG Annex
2016
astrogeology.usgs.gov
Computer Codes
I maintain an active GitHub account that hosts my up-to-date codes at github.com/jarichardson. I mostly code in Python, but I develop models in C and I have experience in Perl, IDL, and R.
– MOLASSES: a Cellular Automata lava flow simulator for probabilistically forecasting lava inundation. GitHub link (C, Unix, Command Line)
– VEAM: Volcanic Event Age Model. Runs a Monte Carlo to simulate emplacement time for volcanoes in a volcanic field and model recurrence rate. GitHub link(Python, All OS's, GUI)
– dtm2obj: A simple algorithm to convert an elevation model to a 3D printable ASCII model. GitHub link(Python, All OS's, Command Line)
– kdtools: Python Functions to perform Kernel Density Estimation on a set of points. This requires R. GitHub link(Python, Unix, Command Line)
– A Python Code to evaluate spherical harmonic coefficients. GitHub link(Python/BASH, Unix, Command Line)